Puck 234
on 
May 19, 2014
at 
8:51 pm
A number of readers likely suspected that this conversation was going to happen. Hopefully the version of said predictable conversation shown here is funny enough to make the predictability worth it.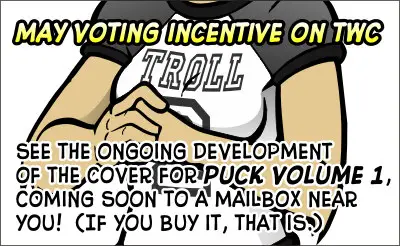 Vote on TWC and follow along as I work on the cover for Puck Volume 1!!!
I haven't made much progress on the cover this week (due to some unforeseen circumstances like a flood in my office), but a new voting incentive will be up in a day or two, so check back soon for an update!
CLICK HERE TO VOTE FOR PUCK!!! IT'S SATISFYING LIKE LEMONADE!