Puck 237
on 
June 9, 2014
at 
9:13 pm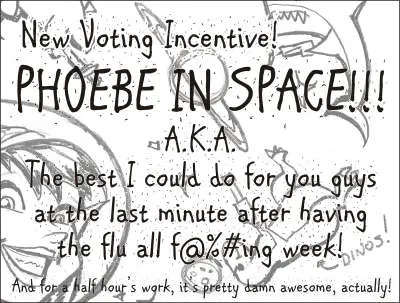 NEW VOTING INCENTIVE: PHOEBE IN SPACE!
So yeah, I came down with a wicked case of the flu, running a scarily high temperature and all that, so I didn't get around to doing a voting incentive. Once I got better, though, I dedicated the duration of two 'Game Grumps' episodes to the creation of this … er … masterpiece. In HB pencil! With glorious no color!
To be honest, on a labor-to-satisfaction level, I do think this picture kind of rocks. Yay for cramming at the last minute!
CLICK HERE TO VOTE FOR PUCK!!! IN SPACE! WITH SHARKS!
As for this comic…
Finishing this one almost killed me, and it's (obviously) not due to the challenging content. I've been consistently ill for the past two weeks, and this week I only remained functioning and vertical when I was hopped up on Day-Quil. I had to drag myself to the drawing board to get this done, but it's done. Yay.
Not a 'funny ha ha' strip, perhaps, but I wanted to more clearly illustrate the type of woman Puck's dealing with here.
And I'm aware that the punch line plays on a pop culture ref that's older than most of my readership. Sorry about that. But if you've never heard the song, so yourself a favour and go check it out here. You hear that sound, young'ns? That's called music.