Puck 236
on 
June 2, 2014
at 
9:18 pm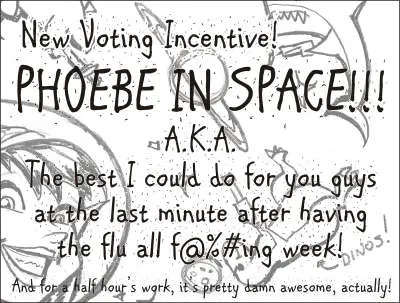 NEW VOTING INCENTIVE: PHOEBE IN SPACE!
So yeah, I came down with a wicked case of the flu all week, running a scarily high temperature and all that, so I didn't get around to doing a voting incentive. Once I got better, though, I dedicated the duration of two 'Game Grumps' episodes to the creation of this … er … masterpiece. In HB pencil! With glorious no color!
To be honest, on a labor-to-satisfaction level, I do think this picture kind of rocks. Yay for cramming at the last minute!
CLICK HERE TO VOTE FOR PUCK!!! IN SPACE! WITH SHARKS!
In other news…
Puck recently was featured as Comic of the Week in an article by the Webcast Beacon, everyone's favourite webcomic-based podcast. Check it out and give them a listen/watch! If you love webcomics, they're a source of cool news and can open your eyes to some awesome stuff out there.