Puck 238
on 
June 16, 2014
at 
9:38 pm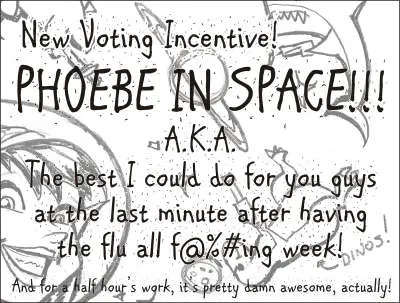 NEW VOTING INCENTIVE: PHOEBE IN SPACE!
So yeah, I came down with a wicked case of the flu, running a scarily high temperature and all that, so I didn't get around to doing a voting incentive. Once I got better, though, I dedicated the duration of two 'Game Grumps' episodes to the creation of this … er … masterpiece. In HB pencil! With glorious no color!
To be honest, on a labor-to-satisfaction level, I do think this picture kind of rocks. Yay for cramming at the last minute!
CLICK HERE TO VOTE FOR PUCK!!! IN SPACE! WITH SHARKS!
As for this comic…
The Hotdog Guy returns! Mainly because we haven't seen him in a million years, and he had to show up sooner or later. Puck doesn't seem to be eating the hotdogs when she goes there, I've realized. The last two times, she's managed to crush them in uncontrolled rage. Waste of a good hotdog if you ask me.
Next week, it's back to Satan's mansion as we check in on the craziness over there! Yay!