Puck 239
on 
June 23, 2014
at 
10:03 pm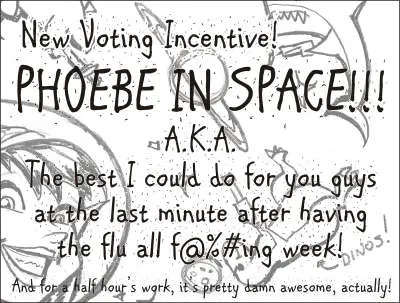 VOTING INCENTIVE: PHOEBE IN SPACE!
So yeah, I came down with a wicked case of the flu, running a scarily high temperature and all that, so I didn't get around to doing a voting incentive. Once I got better, though, I dedicated the duration of two 'Game Grumps' episodes to the creation of this … er … masterpiece. In HB pencil! With glorious no color!
To be honest, on a labor-to-satisfaction level, I do think this picture kind of rocks. Yay for cramming at the last minute!
CLICK HERE TO VOTE FOR PUCK!!! IN SPACE! WITH SHARKS!
As for this comic…
Another bit player come in for a brief showing! It's Tyler (formerly Taylor), Daphne's quasi-boyfriend but not really! We haven't seen him since #158! I felt it necessary to softly bring him back in, because a few of the future story arcs will feature him a bit more.
I want to stress that Daphne's final line does not mean that she's Catholic. I think Daphne would be just the sort of person to carry around a bunch of stuff from a variety of world religions, just in case they were useful for some plot or scam. You just never know, right?