Puck 240
on 
June 30, 2014
at 
9:48 pm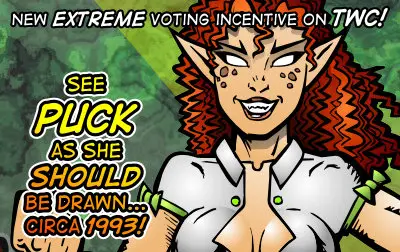 NEW JULY VOTING INCENTIVE: PUCK GOES EXTREME!!!!!!
Have you ever wanted to see Puck reinterpreted as an Image comic circa 1993? Of course you didn't! And that's why I'm here to make your non-dream a reality! Starting July 1st, a vote on TWC gets you a glimpse of Liefeld-level majesty! Check back every week this month as I 90's-ize all of the primary Puck characters!
CLICK HERE TO VOTE FOR PUCK!!! WE'RE TALKING BADLY DRAWN BOOBS HERE!
As for this comic…
I felt like something a little summery for the first week of July. Those of you who have been around for a while (or those of you who have seen the downloadable beach day wallpaper from the store) may recognize that this is Daphne's standard bathing suit.
How come characters in comics always have those double-scoop ice cream cones? Have you ever seen real people walking around with those? I mean, they're sort of impractical. Anyway, who am I to buck tradition?
Oh, and if you're curious (as some people seemed to be last week) about what Daphne and Tyler's kid would look like, super fan Amanda Robertson took it upon herself to visualize the cute yet horrifying possibility! Go to the Puck Facebook page and have a look!