Puck 245
on 
August 4, 2014
at 
9:45 pm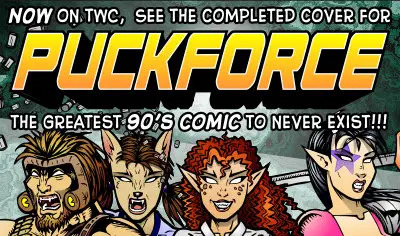 NEW VOTING INCENTIVE: PUCKFORCE COVER!!!!!!
A new Puck voting incentive is up on TWC! Vote for Puck to see an authentic-type cover for PUCKFORCE, complete with lots of 90's flair! It's like a time machine … for your MIND!!!!
CLICK HERE TO VOTE FOR PUCK!!! GUARANTEED STUPID OR YOUR MONEY BACK!
As for this comic…
My wife caught a glimpse of the fourth panel zoomed in on Tracee while I was working on it. She was slightly alarmed.
HER: Gah! Tracee's showing her boobs to someone? Who's Tracee showing her boobs to?
ME: Uh, you'll see.
HER: Is she showing her boobs to you?
ME: What? No! I'm not a character in the comic, silly.
HER: But is she showing her boobs to you in your mind?
ME: (Awkardly long pause) No.
At that point she walked away.
For the record, the suspiciously happy painter in the background of panel four does bear a strong resemblance to me. Not intended, of course. Consciously, at least. (Though I don't wear ascots and berets on a regular basis. Which is a shame, really, because it looks simply smashing!)