Puck 244
on 
July 28, 2014
at 
9:39 pm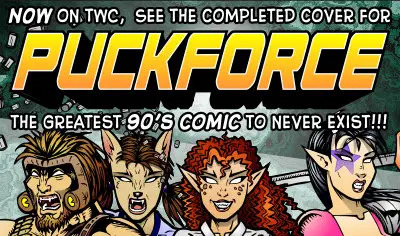 NEW VOTING INCENTIVE: PUCKFORCE COVER!!!!!!
A new Puck voting incentive is up on TWC! Vote for Puck to see an authentic-type cover for PUCKFORCE, complete with lots of 90's flair! It's like a time machine … for your MIND!!!!
CLICK HERE TO VOTE FOR PUCK!!! GUARANTEED STUPID OR YOUR MONEY BACK!
As for this comic…
Whoa, check it out! Plot! We haven't seen stereotypical mobster Tony Bruno since his ill-fated attempt to run for mayor, but he's never far from our hearts. He's only back for this one comic, though, so get your fill of pinstripes while you can!