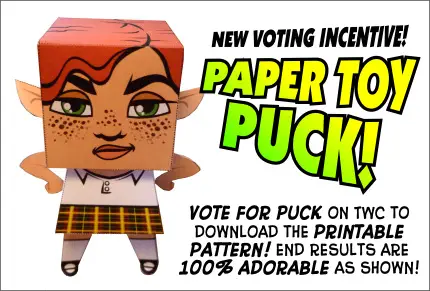 NEW VOTING INCENTIVE: PAPER TOY PUCK!
Vote for Puck on TWC to download your very own printable pattern for Paper Toy Puck! All you guys need is some scissors, a glue stick and maybe an x-acto knife to get in on the paper toy craze! Guaranteed to make your shelf way more adorable than it already is!
CLICK HERE TO VOTE FOR PUCK!!! EASY PEASEY LEMON SQUEEZY!
ALSO…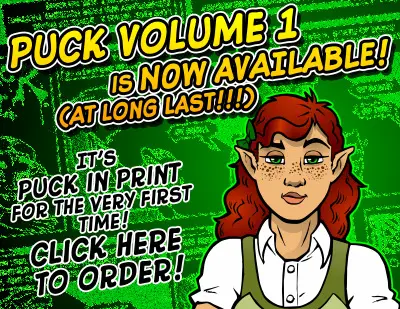 BIG NEWS!!! THE PUCK BOOK IS READY AT LAST, DAMNIT!!!
CLICK HERE TO GET YOUR COPY OF PUCK VOLUME 1!
As for this comic…
This is what's called 'narrative symmetry', which is a fancy way of saying 'Hey, I'm all out of ideas, so why don't we just use the same stuff twice?' Enh, it worked for Shakespeare.