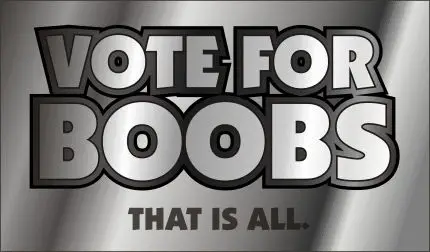 NEW VOTING INCENTIVE! BOOBS!!!
So after bringing you a voting incentive that required a rather staggering amount of time planning on my part to create, I sadly found out that my efforts were sorely misplaced. Practically no one voted, and Puck plummeted down to the lowest spot it's been on TWC in years. IN YEARS.
So in that light, I've chosen to replace the voting incentive I worked hardest on with a voting incentive that … well, see for yourself. I hope you're happy, lowest common denominator! I hope you're happy.
CLICK HERE TO VOTE FOR PUCK. SEE BOOBS.
ALSO…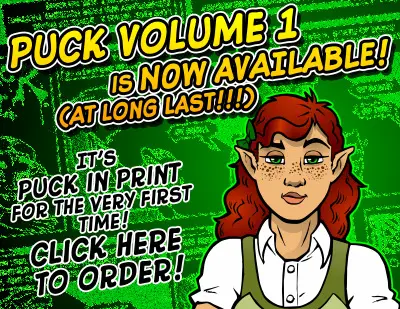 BIG NEWS!!! THE PUCK BOOK IS READY AT LAST, DAMNIT!!!
CLICK HERE TO GET YOUR COPY OF PUCK VOLUME 1!
As for this comic…
People seem to like it when Puck threatens violence, almost as much as they like it when she perpetrates actual violence, so here you go! This comic reflects my current mental state fairly accurately. I'd dearly, dearly love to punch a good twenty or so people in the head right now, and having Puck redline her anger engine is always a little cathartic.
And hey, 250 strips. Yay? I guess?
Oh, and I added Heather and Colin's parents to the character list, which was overdue. I mean, if Stan from Crackistan is on that list, this obnoxious chick should be on there too, right?