Puck 254
on 
October 6, 2014
at 
8:44 pm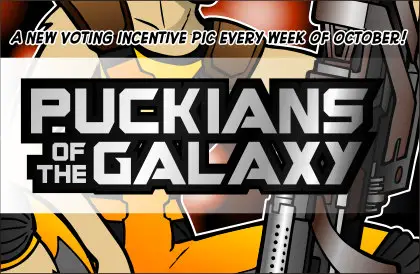 New Weekly Voting Incentive: PUCKIANS OF THE GALAXY!!!
In the spirit of Halloween, the Puck gang are celebrating the second most entertaining movie of all time (almost beat the Blues Brothers for my number one spot!) in crazy cosplay fashion! The first one's already gone by, so don't miss this week's!
CLICK HERE TO VOTE FOR PUCK! A VOTE FOR PUCK IS A VOTE NOT FOR GARY BUSEY!
ALSO…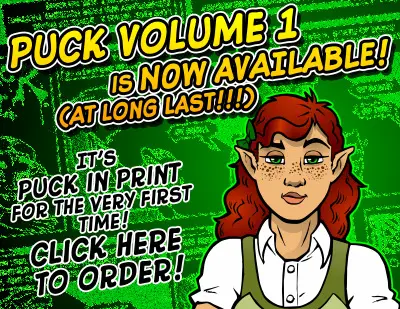 As for this comic…
Puck and Phoebe don't culturally see eye to eye on much, but they can bond on this: they both have zero appreciation for giant monster movies.
I think everyone knows where this is going, though. And the end of this current story arc is actually now on the horizon! Took long enough! But seriously, I've enjoyed exploring a more complex narrative structure over the past 34 strips. (Wait, seriously? We've been on this one story for the better part of a year? Damnit, this slow-as-molasses weekly update schedule of mine sucks!)