Puck 255
on 
October 13, 2014
at 
9:27 pm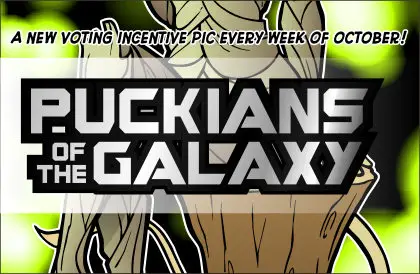 New Weekly Voting Incentive: PUCKIANS OF THE GALAXY!!!
In the spirit of Halloween, the Puck gang are celebrating the second most entertaining movie of all time (almost beat the Blues Brothers for my number one spot!) in crazy cosplay fashion! The first one's already gone by, so don't miss this week's!
CLICK HERE TO VOTE FOR PUCK! A VOTE FOR PUCK IS A VOTE NOT FOR GARY BUSEY!
ALSO…
PUCK APPEARS IN WOOHOOLIGAN!!!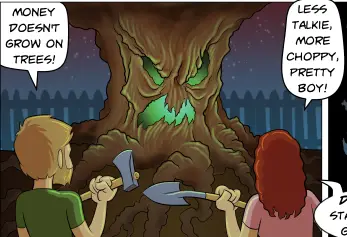 A while back, the fine Mr. Dealey from Woohooligan promised to put Puck in a cameo role in one of his comics as a thanks to me for supporting his Kickstarter campaign (which is seriously too generous of him), and the result is up now. It's pretty incredible! It's WAY more than a cameo; it's a full-on Puck guest comic with more action and goofiness than you'll ever find in a real Puck comic! Go check it out! Then vote for Woohooligan to see a special bonus panel featuring Phoebe!
ALSO ALSO…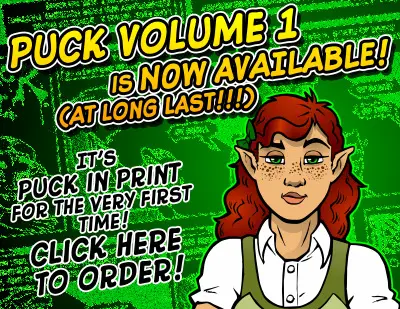 As for this comic…
If you've never been to a shower of any kind (or had lengthy stories about showers told to you by your significant other after she attended a shower), then you will dismiss this comic as an odd bit of nonsense, perhaps worthy of a silly chuckle, in the same vein as one of those weird Monty Python bits where Vikings come in out of nowhere and spoil an otherwise decent sketch. If you ever have been to a shower, though, you will likely recognize the deep, undeniable truth in Puck's statement. And you might also experience a little PTSD at the mere mention of the word.
Now I'm sure there will be a few guys reading this who have been to one of those newfangled 'boys included' showers who will say, "Hey Gecko, I was at a shower, and it was no big deal. What gives?" To you, I have one of the following explanations:
1) You're a man, and thus were totally blind to the nasty, bullying, complex social dynamics going on right under your nose, or…
2) You're a man, and the presence of a man meant the women were on slightly better behavior than usual.
Bottom line: showers suck. But this one is going to be awesome.