Puck 264
on 
December 15, 2014
at 
10:22 pm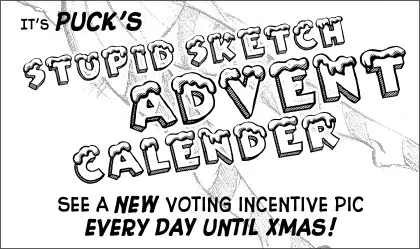 New Daily Voting Incentive: PUCK'S STUPID SKETCH ADVENT CALENDAR!!!
It's a Stupid Sketch Puck Advent Calendar! Count down to Christmas with 25 holiday-themed sketches! Instead of putting a whole bunch of effort into one really good pic, I made 25 mildly crappy yet entertaining ones! Vote to see today's special pic!
CLICK HERE TO VOTE FOR PUCK! GET OFF THE NAUGHTY LIST!
As for this comic…
For those of you sceptical about the existence of a stroller that costs $1000, believe me, there's a bunch of them. And for those of you who doubt the fact that any human being in his or her right mind would ever pay that much money for a f#$%ing stroller, let me reassure you that people can get pissy and competitive about anything.
Oh, and for our non-Canadian readers, Canadian $100 bills are brown. They have a picture of Robert Borden (prime minister 1911-1920) on them. They're also usually made of a weird, semi-transparent plastic material now. It's kind of strange and makes me long for the old-fashioned goodness of paper money. And for those who are curious, no, 'bringing home the Bordens' is not something we say up here.
Though we probably should.