Puck 263
on 
December 8, 2014
at 
8:56 pm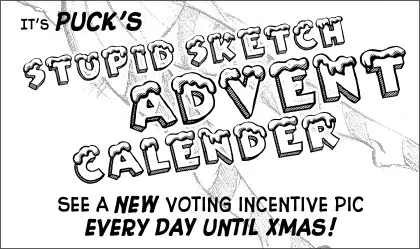 New Weekly Voting Incentive: PUCK'S STUPID SKETCH ADVENT CALENDAR!!!
It's a Stupid Sketch Puck Advent Calendar! Count down to Christmas with 25 holiday-themed sketches! Instead of putting a whole bunch of effort into one really good pic, I made 25 mildly crappy yet entertaining ones! Vote to see today's special pic!
CLICK HERE TO VOTE FOR PUCK! GET OFF THE NAUGHTY LIST!
As for this comic…
Not much to say here, beyond the fact that I'm probably channelling Dolly Parton's logic when she said of herself, "It takes a lot of money to look this cheap." I like to think of Tracee as Dolly Parton without the kindness. Or the talent. Or the sense of humour. So really, nothing like Dolly Parton at all. Except for one thing. (Well, two things.)
Also, the battle's already ostensibly started and I have to be honest that I still don't know who I'm rooting for here. I love to hate both these characters to such an extent that I'm almost developing a fondness for them.
Almost.