Puck 265
on 
December 22, 2014
at 
9:32 pm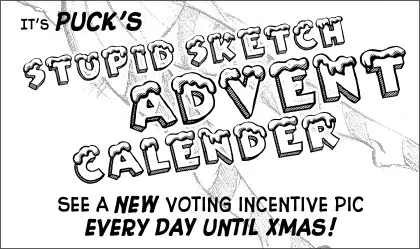 New Daily Voting Incentive: PUCK'S STUPID SKETCH ADVENT CALENDAR!!!
It's a Stupid Sketch Puck Advent Calendar! Count down to Christmas with 25 holiday-themed sketches! Instead of putting a whole bunch of effort into one really good pic, I made 25 mildly crappy yet entertaining ones! Vote to see today's special pic!
CLICK HERE TO VOTE FOR PUCK! GET OFF THE NAUGHTY LIST!
As for this comic…
When two villains face off in the comics, you always end up with a situation where the one villain suddenly becomes slightly more likable and the other one becomes even nastier than usual so we readers aren't burdened with any ambiguity as to whom we should root for. I feel myself slipping into that old trope here, I suppose.
In a face-off between Tracee and Heather, though, I can't help but side with Tracee. She's ridiculous and a sort of untrustworthy, but her ridiculousness stems entirely from her own nature. Heather's ridiculousness, meanwhile, stems from her ambition.