Puck 273
on 
February 16, 2015
at 
9:12 pm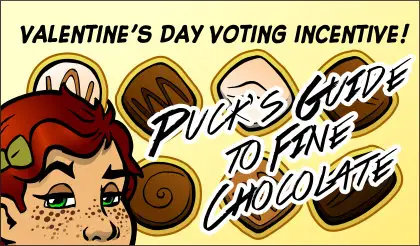 Voting Incentive: PUCK'S GUIDE TO "FINE" CHOCOLATE!
You know the drill: you get a box of cheap chocolate and it's got a legend telling you what's what, but what's REALLY in those chocolates? Puck's got the answers! Vote for Puck on TWC to find out!
CLICK HERE TO VOTE FOR PUCK! IT'S SATISFYING LIKE CHUCKLAT!
As for this comic…
We get another glimpse into the happy world of Satan's family life. And we're officially winding down this rather lengthy story arc that started well over a year ago. Next comic, I think, will be the last in this particular saga. After that, I think I'll take a break from narrative for a month or two and just run some one-off jokes – you know, the type the internet actually likes as opposed to this story-based stuff that's sometimes like readership kryptonite.
Anyway, for those of you who followed through the whole of this most recent arc, I want to say thanks. It's been fun stretching my plot muscles a bit.
Narrative strip comics are weird, really. They're a sort of old-school challenge which is really archaic in today's world. (It's old old. I mean, Siegel and Shuster wrestled with it when they hatched Superman.) It's vintage, but I really do enjoy it. It poses an odd dilemma: can you tell a sustained plot, broken up into bite-sized four-panel chunks, and hold the narrative together while also managing to make each individual strip exciting and/or funny, and, if at all possible, vaguely accessible to the first-time reader? I might not always succeed, but thanks for following along on my attempt.