Puck 272
on 
February 9, 2015
at 
9:56 pm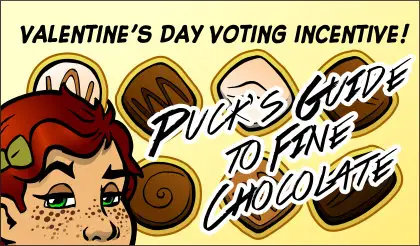 Voting Incentive: PUCK'S GUIDE TO "FINE" CHOCOLATE!
You know the drill: you get a box of cheap chocolate and it's got a legend telling you what's what, but what's REALLY in those chocolates? Puck's got the answers! Vote for Puck on TWC to find out!
CLICK HERE TO VOTE FOR PUCK! IT'S SATISFYING LIKE CHUCKLAT!
As for this comic…
Some people were wondering how Puck would spend that ten thousand dollar windfall. Well, here's a partial answer: generous payoffs to her cronies and enforcers. Though I think Daphne acted of her own free will here. The promise of making Heather's life a tad more miserable would be its own reward for a girl like Daphne.