Puck 277
on 
March 16, 2015
at 
9:41 pm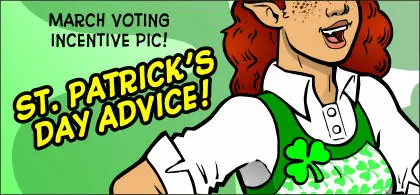 Right now on TWC! Vote to get critical St. Patrick's Day advice from Puck herself!
CLICK HERE TO VOTE FOR PUCK! THE LEPRECHAUN TOLD YOU TO!
As for this comic…
Just to clarify, I've never abandoned my wife in such times of need. But like all human beings, I have wanted to.
And for those who haven't had babies, just trust me on this: diapers can contain all sorts of terrifying surprises. This comic is not a ridiculous exaggeration. It's based on cold, hard facts. (Actually more like hot, runny facts…)