Puck 280
on 
April 6, 2015
at 
9:53 pm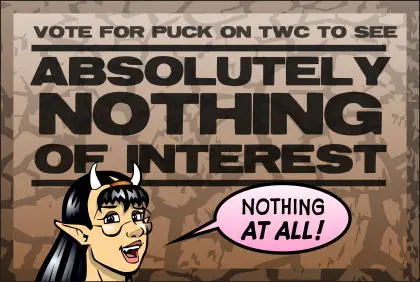 NEW APRIL VOTING INCENTIVE! NOTHING INTERESTING!
Seriously, man, there's nothing interesting to see if you vote. What, don't you trust me? VOTE EVEN WHEN THERE'S NO REAL MOTIVATION FOR YOU TO DO SO!!!
ALSO…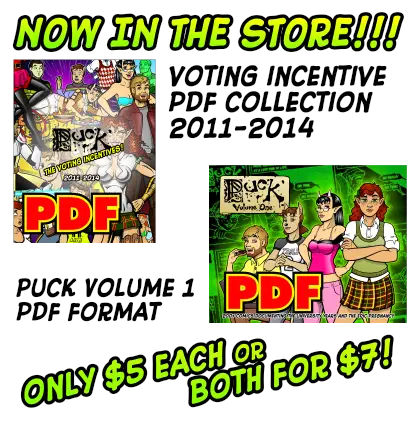 And as for the comic…
Daphne's perspective on these parks (minus the criminal undertones) mirrored my own childhood thoughts. In all honesty, I haven't been to a theme park of any variety in decades, so my perspective is extremely dated, but that much ballyhooed 'magic' of Disney World didn't really do much for me as a kid. I was a ride monster. I wanted roller coasters, followed by more roller coasters, then maybe an overpriced funnel cake and some more coasters. (That said, Space Mountain has serious chops, and I respect it. And I've heard that Disney's added tons of new rides to their roster, so maybe there's more excitement in the Magic Kingdom now.)
To put it in terms that Americans would understand, I'd rather hit the local Six Flags than make the pilgrimage to Disney World any day. But there are many, many people who don't share my perspectives on this. We'll hear from one of those people in the very next strip.