Puck 281
on 
April 13, 2015
at 
8:47 pm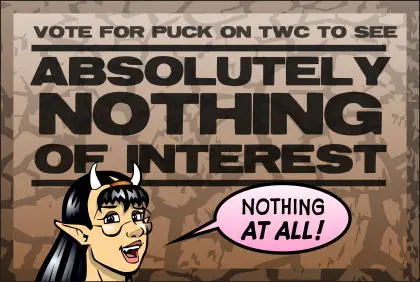 APRIL VOTING INCENTIVE! NOTHING INTERESTING!
Seriously, man, there's nothing interesting to see if you vote. What, don't you trust me? VOTE EVEN WHEN THERE'S NO REAL MOTIVATION FOR YOU TO DO SO!!!
ALSO…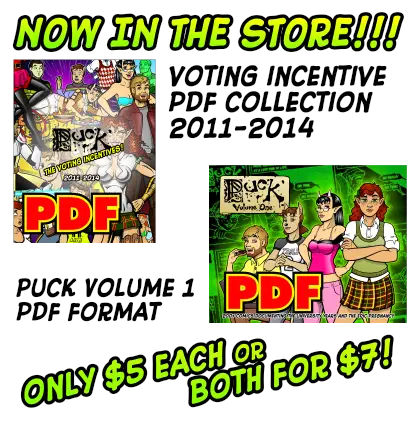 And as for the comic…
A note for Europeans and those not in North America: in America and Canada, fast food places offer unlimited refills on soft drinks. The practice was started in earnest by Taco Bell in the 80's (in part due to the fact that Pepsi owned the chain), and it spread to all other restaurants in the following decades. I explain this because I know the endless refill is not prevalent in Europe, and most Europeans find the whole thing a little weird and sort of excessive.
Puck's holding a 7.5 ounce Canadian can, by the way, which is why it may look a little small to some people. (The 12 ounce American standard can is, in my opinion, just too big. You don't need that much. Really, you don't.) They took the tiny Canadian cans away from us a few decades ago during the 'bigger is better' craze (which unsurprisingly coincided with the 'endless refills' craze), but the tiny cans are back on the shelves now thanks to the 'Hey, we're all super fat!' craze. I've heard the Canadian cans are even popping up on American shelves now. Take that, American soft drink market!