Puck 288
on 
June 1, 2015
at 
9:07 pm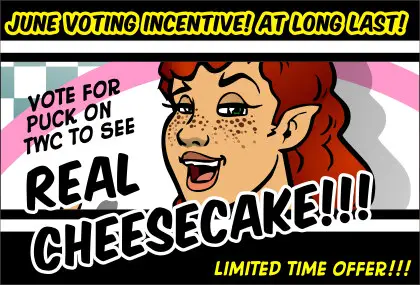 IT'S JUNE! SAY CHEESE!
Every month I run a voting incentive, and every month fans have one question on their minds: "IS IT CHEESECAKE?" If that's your question, then this is your month! Vote for Puck on TWC! See cheesecake! GUARANTEED!
As for this comic…
There's a 'Medieval Faire' area of Canada's Funderland. This background is not directly based off any real section in the park, but it's a close approximation of the faux medieval feel that pervades the whole zone. And no, there isn't actually a store there called 'Ye Olde Funnel Cakes', but there really should be.
By the way, the June bug referred to here is a North American variety of scarab of the genus Phyllophaga. They're large, ugly, and I'm confident that they would taste bad. They're also very, very crunchy. I'm actually not confident a small baby without teeth could successfully crunch one, but I've never been a stickler for realism, have I?