Puck 296
on 
July 26, 2015
at 
4:00 pm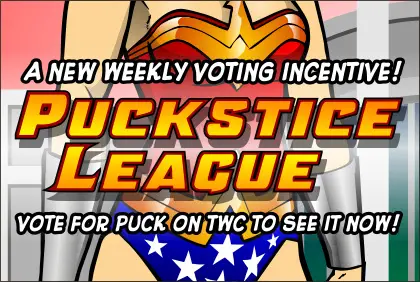 IT'S THE JLA AS YOU'VE NEVER SEEN THEM BEFORE!
I thought it was time to pay tribute to the Justice League of America before Zack Synder takes a steaming dump on the franchise. So every week in July will bring you a new, cool JLA-related cosplay experience, courtesy of the Puck crowd! The fourth one's up now, so vote for Puck on TWC and take a look!
VOTE BEFORE GORILLA GRODD ESCAPES! (Again!)
As for the comic…
Word to the wise: if you ever want to impress learned people by making up your own witty quotation on life or philosophy, attribute it to Rousseau. No one will doubt you.
If instead you want to make up your own flowery poetry quotation, attribute it to Wordsworth. No one on Earth has ever read everything that Wordsworth ever wrote. No one. Not even Wordsworth scholars. If they say they have, they're lying.
SUPER IMPORTANT NOTE: If you want to make up some sassy, pithy aphorism, never attribute it to Wilde. You'll be found out as a fraud. Rather, attribute it to Ovid. No one will ever question you, because just like Wordsworth, no one has ever read everything Ovid ever wrote. Not even Ovid junkies like me. (I couldn't get through the Fasti. Sue me.)