Puck 295
on 
July 20, 2015
at 
9:08 pm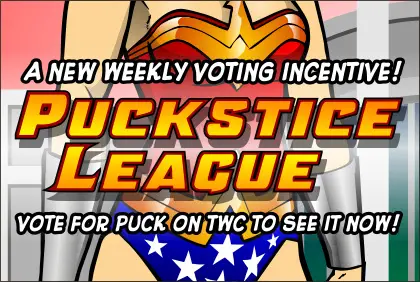 IT'S THE JLA AS YOU'VE NEVER SEEN THEM BEFORE!
I thought it was time to pay tribute to the Justice League of America before Zack Synder takes a steaming dump on the franchise. So every week in July will bring you a new, cool JLA-related cosplay experience, courtesy of the Puck crowd! The fourth one's up now, so vote for Puck on TWC and take a look!
VOTE BEFORE GORILLA GRODD ESCAPES! (Again!)
As for the comic…
This comic really didn't need to happen. In fact, I have this story arc pretty much mapped out for the next many weeks, and this strip wasn't part of the plan. It was more a spur-of the-moment sort of thing. A funny visual popped into my head, and I went with it. Not sure it's funny enough to warrant a whole strip devoted to it, but whatevs.
NB: I purposefully gave Puck a large orange soda because a large orange soda is (IMHO) one of the trailer-trashiest of non-alcoholic beverages one can possibly drink. Oh, and I also wanted to work in a reference to Velveeta cheese in panel two but I ran out of room.