Puck 307
on 
October 12, 2015
at 
9:48 pm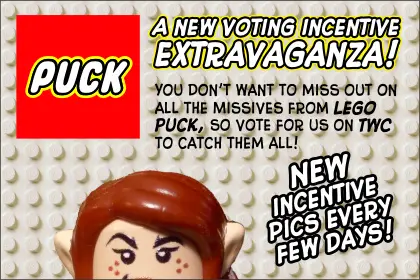 FOLLOW THE ADVENTURES OF LEGO PUCK!!!
Puck has taken a vacation to the land of plastic bricks, and a new postcard from her travels will be arriving in the form of a voting incentive every few days! Things are bound to get wacky, so…
ALSO…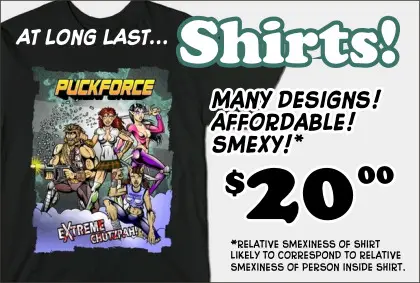 As for the comic…
For those who will curse Colin and talk about his terrible parenting skills, I will just say this (loosely cribbing from Louis C.K. here): if you haven't ever been an active parent caring for a fussy baby, then you get no right to an opinion because you haven't been there. And if you have been a parent, and you're telling me that you've never, ever left your child's side for thirty seconds – no, not even once – then you're probably lying. Or you're Jesus. But then I know you're lying because Jesus never had kids. HAH! (Unless you believe that whole 'Da Vinci Code' garbage, but let's not go there.)
And for those people who think it in bad taste for me to make light of the serious topic of baby-napping, I really have no defense beyond saying that it's sort of like saying it's in bad taste for the Three Stooges to make light of the serious topic of head injury.