Puck 313
on 
November 23, 2015
at 
9:42 pm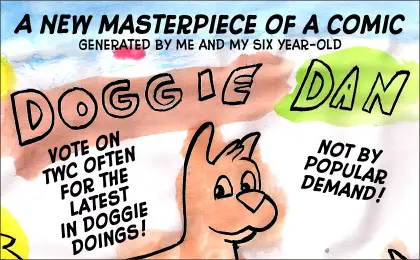 A NEW VOTING INCENTIVE COMIC (generated by me and my six year-old daughter)!!!
Last chance to catch the LEAST POPULAR PUCK VOTING INCENTIVE OF ALL TIME!!! Last chance, man. Next month we're switching back to some predictable sexy Christmas crap. But it's not December yet, so…
As for this comic…
Remember these characters? The ones that the comic's ostensibly supposed to focus on? Whom we haven't seen in months?
I feel strongly that no living celebrity would hold quite as important a position in Phoebe's eyes as Prince would. And I have a feeling that Puck has probably exploited this fact multiple times.
For the record, I'd consider myself a Prince fan. I would greatly welcome the opportunity to see him perform. Though I have no desire to meet him face to face. Not after hearing Kevin Smith's Prince-related stories.