Puck 315
on 
December 7, 2015
at 
10:11 pm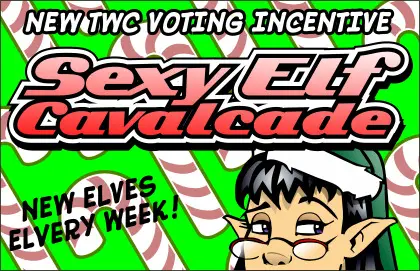 VOTE FOR PUCK ON TWC AND GET FESTIVE!!!
I ask you: who doesn't want an excuse for trashy holiday outfits and horribly awful elf puns? Obviously not me, so step right this way! Puck gang continues a festive tradition of sexy elves. Because, well… Because. That's the best I can do.
VOTE TO GET ON THE NAUGHTY LIST, WHERE ALL THE COOL KIDS ARE!
As for this comic…
Dedicated readers may have already noted that though Puck has punched and/or injured many, many people in the past, she has never actually harmed Phoebe in any way. And Phoebe has never actually harmed anyone. Ever. Until now.