Puck 316
on 
December 14, 2015
at 
9:29 pm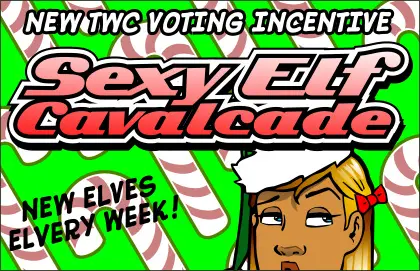 VOTE FOR PUCK ON TWC AND GET FESTIVE!!!
I ask you: who doesn't want an excuse for trashy holiday outfits and horribly awful elf puns? Obviously not me, so step right this way! Puck gang continues a festive tradition of sexy elves. Because, well… Because. That's the best I can do.
VOTE TO GET ON THE NAUGHTY LIST, WHERE ALL THE COOL KIDS ARE!
As for this comic…
From my personal experience, roller coasters feel like they last an eternity … as long as you're actually paying attention. It's sort of like a bullet-time Matrix experience: the adrenaline rush slows everything down. But in real time, most of them are over shockingly fast. Blink and you'll miss it.
Phoebe blinked. It was for the best.