Puck 320
on 
January 11, 2016
at 
10:03 pm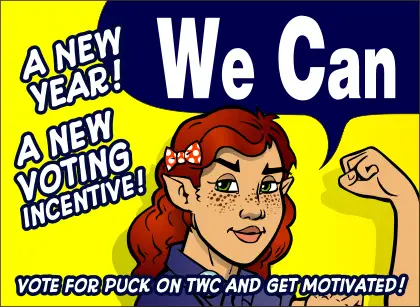 VOTE FOR PUCK ON TWC AND GET INSPIRED!
Happy New Year! If you want to start 2016 right, you'll want to see Puck's motivational poster. (Yes, it's inspired by Rosie the Riveter, but the message has been considerably improved. Words to live by!)
VOTE TO FEEL THE OVERWHELMING POWER OF DEMOCRACY RUN THROUGH YOUR VEINS!
As for this comic…
After reading this one, my wife sighed. "Amusement parks," she hissed in a dismissive tone. "I hate amusement parks. They're creepy and hot and bright and druggy and … wrong." And though I love amusement parks, I can't really argue with any of her points.