Puck 319
on 
January 4, 2016
at 
9:44 pm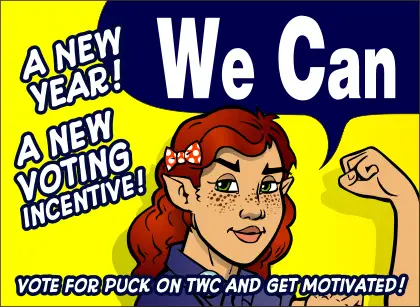 VOTE FOR PUCK ON TWC AND GET INSPIRED!
Happy New Year! If you want to start 2016 right, you'll want to see Puck's motivational poster. (Yes, it's inspired by Rosie the Riveter, but the message has been considerably improved. Words to live by!)
VOTE TO FEEL THE OVERWHELMING POWER OF DEMOCRACY RUN THROUGH YOUR VEINS!
As for this comic…
For those who have cast doubt on this or openly wondered, the dude inside the Papa Shnorf costume is actually a dude. Colin's aware of this because of the manly voice, but I couldn't really make the speech bubbles look manly in any effective way, so here I am clarifying things. What type of dude is inside the costume, though, is the real mystery.