Puck 323
on 
February 1, 2016
at 
9:45 pm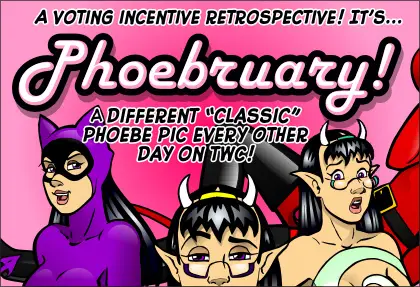 IT'S PHOEBRUARY! VOTE FOR PUCK ON TWC AND CELEBRATE!
I thought it was time to do a little retrospective, so here we go! I've been running constant voting incentives on TWC for years now, so dive into the vault and relive some real gems. Every couple of days this February, a new "classic" Phoebe voting incentive is popping up on TWC! If you never saw these pics the first time or you want to see 'em again, be sure to vote often and catch 'em all!
VOTE TO ALLEVIATE MINOR ACHES AND PAINS!
As for the comic…
I have to admit that I've never really carried any of the listed documentation for either of my children. They only give you one copy of this stuff for each kid, and that means one parent's probably going to go without. My wife carries the small stack of cards for both my kids (and rightly complains about how her wallet is always exploding from the burden), even though I'm often shuttling the kids around by my lonesome. So in Colin's defence, I really do think that most dads would be in a similar situation if they were asked such a question. Not all, but most.