Puck 324
on 
February 8, 2016
at 
9:39 pm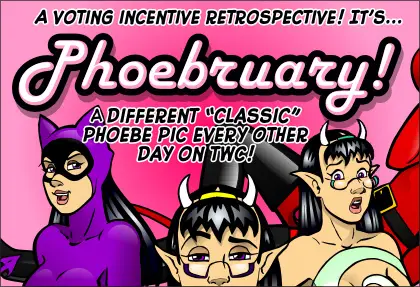 IT'S PHOEBRUARY! VOTE FOR PUCK ON TWC AND CELEBRATE!
I thought it was time to do a little retrospective, so here we go! I've been running constant voting incentives on TWC for years now, so dive into the vault and relive some real gems. Every couple of days this February, a new "classic" Phoebe voting incentive is popping up on TWC! If you never saw these pics the first time or you want to see 'em again, be sure to vote often and catch 'em all!
VOTE TO ALLEVIATE MINOR ACHES AND PAINS!
As for the comic…
Anyone not see this coming? Seriously, this was just sort of inevitable. Though to be clear, Puck and Phoebe will not also end up in pseudo-jail. I'm only allowed so many 'fourth panel – cut to jail' cards before my deck runs dry.