Puck 325
on 
February 15, 2016
at 
9:09 pm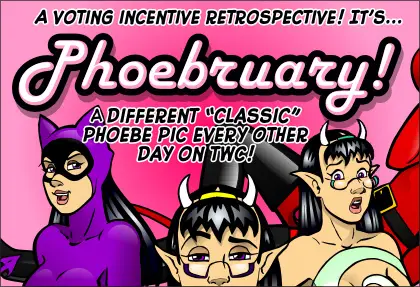 IT'S PHOEBRUARY! VOTE FOR PUCK ON TWC AND CELEBRATE!
I thought it was time to do a little retrospective, so here we go! I've been running constant voting incentives on TWC for years now, so dive into the vault and relive some real gems. Every couple of days this February, a new "classic" Phoebe voting incentive is popping up on TWC! If you never saw these pics the first time or you want to see 'em again, be sure to vote often and catch 'em all!
VOTE TO ALLEVIATE MINOR ACHES AND PAINS!
As for the comic…
Next week, we check in on Puck again. Promise. Some people might say that nine weeks without a single appearance of the comic's titular character is misguided storytelling. And those people would be right. I hereby promise, though, that Puck will return to the comic next week, and will stay present in the comic … for at least a week or two. Maybe more!