Puck 327
on 
February 29, 2016
at 
9:37 pm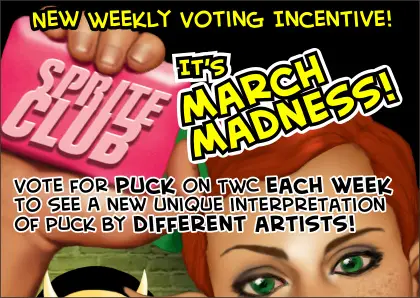 NEW TWC VOTING INCENTIVE! MARCH MADNESS!!!
This month (starting March 1st), a vote for Puck on TWC gets you a glimpse at some fantastic Puck art by fantastic artists that are not me! This week we've got a rather unique piece dreamed up by one of the guys from Exiern and drawn by Sean, the artist from Spying With Lana.
VOTE TO PARTY ALL THE TIME, PARTY ALL THE TIME, PARTY ALL THE TIME! (Just like Eddie Murphy!)
As for the comic…
I don't really know how much force would be required to snap a smart phone in two like a Triscuit, but I'm pretty sure its more pounds per square inch than any human fingers can provide. No matter. Puck doesn't really abide by the laws of physics.