Puck 326
on 
February 22, 2016
at 
8:58 pm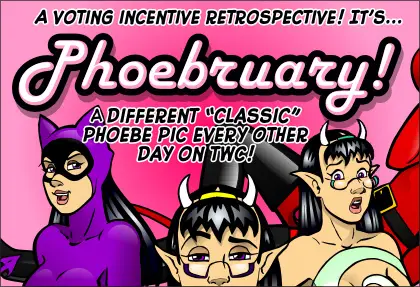 IT'S PHOEBRUARY! VOTE FOR PUCK ON TWC AND CELEBRATE!
I thought it was time to do a little retrospective, so here we go! I've been running constant voting incentives on TWC for years now, so dive into the vault and relive some real gems. Every couple of days this February, a new "classic" Phoebe voting incentive is popping up on TWC! If you never saw these pics the first time or you want to see 'em again, be sure to vote often and catch 'em all!
VOTE TO ALLEVIATE MINOR ACHES AND PAINS!
As for the comic…
Puck and Phoebe are back at last! That ought to make readers happy! Though it's possible that they've been gone so long that readers forgot all about them, and are now annoyed that these strange faces are popping up to break the Colin-heavy narrative. I dunno.
If you're wondering why Daphne would be calling Puck on Phoebe's cell, it's because Puck doesn't actually own a cell phone. Neither does Colin. Both of them are Luddites stuck in the past and resistant to new technology, like me. I initially tried to shoehorn an explanation for this in the dialogue but the resulting panel was clunky and dumb, so … yeah.
And if you're wondering what possible crime Daphne could have committed to require the disposal of the unique body of evidence listed in panel four, well, your guess is as good as mine. Ideas, anyone?