Puck 338
on 
May 16, 2016
at 
10:13 pm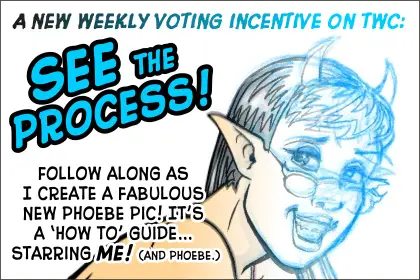 NEW WEEKLY VOTING INCENTIVE! SEE THE METHOD BEHIND THE MADNESS!!!
There's a new weekly voting incentive up on TWC! Each week in May, vote to follow along as I reveal both the method and the man behind Puck comics! Watch as I lead you through the many, many steps of drawing some classic Phoebe cheesecake for an upcoming ad. Plus, for the first time ever, you get to see what I look like! It's not a draw, but I'm making it sound like it is! Marketing!!!
CLICK HERE TO MAKE LEARNING FUN!
As for the comic…
And with that, we bid 'adieu' to Papa Shnorf. Will he be back? Maybe. He'd have to fight it out for panel space with all the other neglected tertiary characters like the Hotdog Guy and Tracee.
For those who will insist that amusement parks don't let their mascots take the costume home with them, I say this: Papa Shnorf is a very special exception to the rule. Just trust me on that.