Puck 348
on 
July 25, 2016
at 
9:00 pm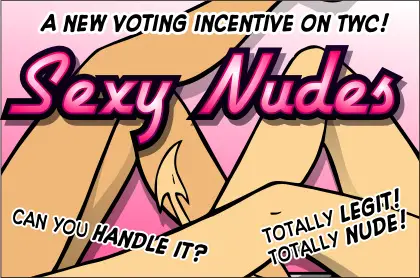 NEW VOTING INCENTIVE: SEXY NUDES!!!
There's a new voting incentive up on TWC! Yes, SEXY NUDES! Yes, starring PUCK and PHOEBE! What the people ask for!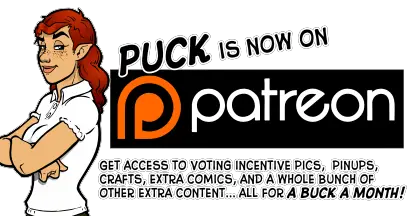 Just a friendly reminder that if you want the PUCK+ experience, including access to all the past voting incentives, some sneak peaks, and other extra junk, you can become a patron of Puck for only a dollar a month!
CLICK HERE TO BECOME A PATRON OF PUCK! A PUCKTRON? That sounds rad, like gestalt transformer or something!
As for this comic…
This really does happen, by the way. Nothing gives you an upper body workout like a baby. Not that it really worked for me, of course. My arms remained dumpy and flabby and Pilsbury Doughboy-ish, but my wife developed very impressive biceps from the constant lugging.
I personally believe that Colin spends a lot of time under the sink.