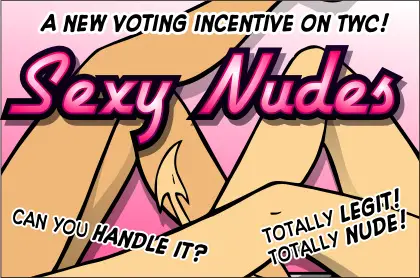 AUGUST VOTING INCENTIVE: SEXY NUDES!!!
There's the August voting incentive up on TWC! Yes, SEXY NUDES! Yes, starring PUCK and PHOEBE! What the people ask for!
ALSO…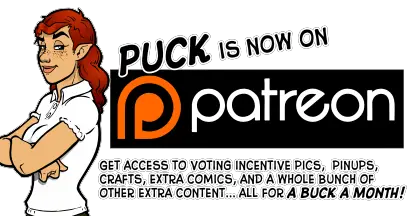 Just a friendly reminder that if you want the PUCK+ experience, including access to all the past voting incentives, some sneak peaks, and other extra junk, you can become a patron of Puck for only a dollar a month!
CLICK HERE TO BECOME A PATRON OF PUCK! A PUCKTRON? That sounds rad, like gestalt transformer or something!
As for this comic…
Observant readers will note that this marks the start of a new chapter/story arc. So hold on, because this one's going to be crazy. (It's also going to be pretty short, so if it's not to your liking, it won't last long.)
For the record, I never totally went into a full-on comatose state when watching my kids, but I did periodically have those momentary lapses in consciousness. (And by momentary, I mean no more than half an hour in duration.) As Louis C.K. says, you can judge all you want, but unless you've been there, unless you've had kids, you don't know, man. You just don't know.