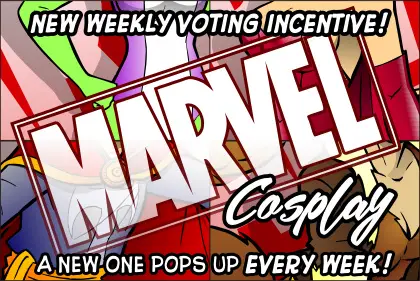 Mighty Marvel Marching Society get ready! It's Marvel cosplay month! Vote for Puck on TWC to see a new Puck character try to do Marvel justice every week!
Vote for Puck on TWC HERE, TRUE BELIEVERS!
As for this comic…
Hair can make a big difference. It says a lot about a person. And straight hair versus curly or wavy hair, well, it just seems to be this iconic clash. Neither option is inherently better, but I do feel that it says a lot about a personality, or a person's self-concept. Or a person's changing self-concept.
For those who are interested, there's an alternate version of this comic up on my Patreon feed right now featuring a totally different joke. (The alternate rendition is actually a funnier gag than this one, IMHO, but this one works better within the story arc, so there you are.)