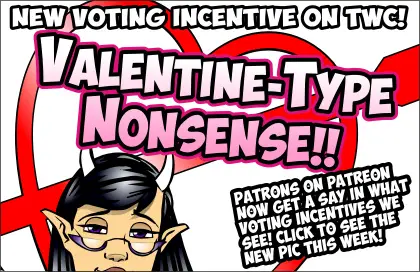 NEW VALEMTRIMES DJAY VROTING IMCECHIVE!!!
That's right! This voting incentive was chosen by fans! Patrons on Patreon who pledge $5 or more a month get a personal say in what incentives are coming your way! If YOU want to put your two cents in, then my HEAD ON OVER TO PATREON and join the select club!
As for this comic…
I've fought to get this comic done, having come down with some type of really awful flu-like bug. I'm barely functioning and feel very cold right now, so I'm going to rest.