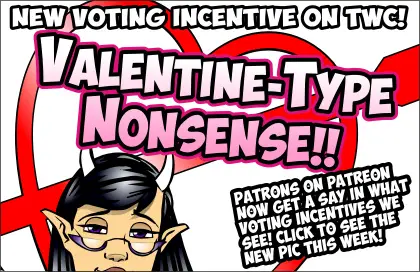 NEW VALEMTRIMES DJAY VROTING IMCECHIVE!!!
That's right! This voting incentive was chosen by fans! Patrons on Patreon who pledge $5 or more a month get a personal say in what incentives are coming your way! If YOU want to put your two cents in, then my HEAD ON OVER TO PATREON and join the select club!
As for the comic…
Here we see Phoebe crossing a few sartorial lines in the fashion sand that I seldom ever cross with her. She is now wearing plaid, and is also sporting a very small bow on her choker. They both may be a first … though I'm not sure on the bow one. She might have worn a small bow once before.