Puck 386
on 
April 17, 2017
at 
10:28 pm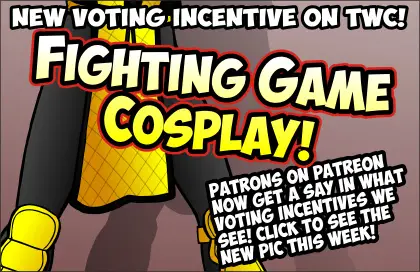 NEW VOTING INCENTIVE!!! FIGHTING GAME COSPLAY!!!
Have you ever wanted to see some of the Puck cast dressed as characters from fighting games? NO? Well, someone did! Which is why you're seeing this! Patrons on Patreon who pledge $5 or more a month get a personal say in what incentives are coming your way! If YOU want to put your two cents in, then my HEAD ON OVER TO PATREON and join the select club!
Also…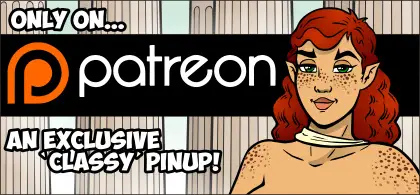 That's right. New pinup on Patreon only! As a thanks for my amazing supporters over there. Giant cheesecake-flavored thanks, you fine people you!
As for this comic…
I only ever dealt with babies who had their own room. I consider babies having their own rooms, preferably one room per child, to be not only the optimal but the ONLY way to have a child. That said, there are some people (like Puck and Colin) who, due to lack of space, must place a crib in their own room.
But there are others – strange individuals – who have oodles of space and yet choose to have their child sleep in their bedroom, or even in their very bed. I've heard their reasonings. I've heard their logic. I've heard what they say about bonding and such. And I have just one word for them:
No.