Puck 385
on 
April 10, 2017
at 
9:53 pm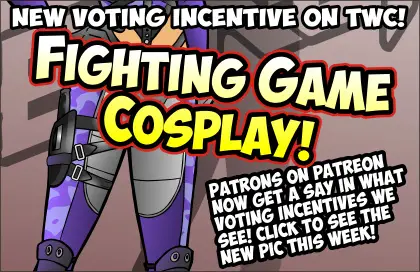 NEW VOTING INCENTIVE!!! FIGHTING GAME COSPLAY!!!
Have you ever wanted to see some of the Puck cast dressed as characters from fighting games? NO? Well, someone did! Whichi is why you're seeing this! Patrons on Patreon who pledge $5 or more a month get a personal say in what incentives are coming your way! If YOU want to put your two cents in, then my HEAD ON OVER TO PATREON and join the select club!
Also…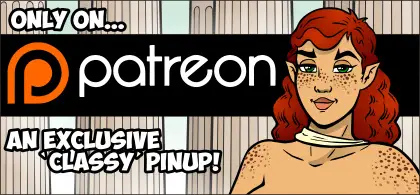 That's right. New pinup on Patreon only! As a thanks for my amazing supporters over there. Giant cheesecake-flavored thanks, you fine people you!
As for this comic…
Parenthood does change things. Some things become … less frequent. But I can tell you one thing that totally gets more frequent when you become a parent: ICE CREAM!!!!
BYOOO!!! BYU-BYU-BYU BYOOOOOOOOOOO!!!!
(That's the best text-based air horn I can manage. Sorry.)