Puck 395
on 
June 19, 2017
at 
10:50 pm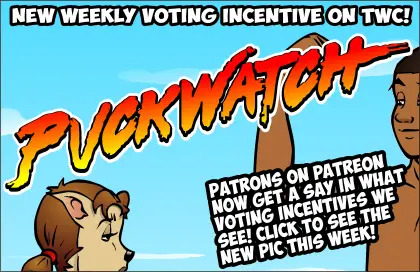 NEW WEEKLY VOTING INCENTIVE!!! PUCKWATCH!!!
All throughout June, we'll be paying tribute to Baywatch, that awful show from the 90's! Because hey, if Hollywood is doing it… Get your beach on and vote for Puck on TWC! And remember, this idea came from THE PATRONS! Patrons on Patreon who pledge $5 or more a month get a personal say in what incentives are coming your way! If YOU want to put your two cents in, then my HEAD ON OVER TO PATREON and join the select club!
VOTE FOR NO HASSLE, ONLY THE HOFF!!!
As for this comic…
I think this is the first time we've ever actually seen the inside of the bathroom at the Puck household. It looks hideous.