Puck 397
on 
July 3, 2017
at 
9:59 pm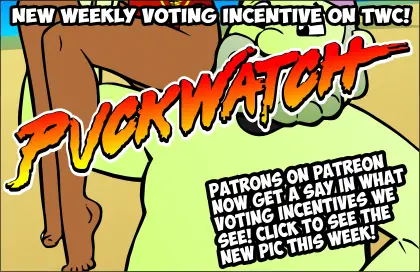 PUCKWATCH KEEPS GOING?!?
That's right! Puckwatch was so big, it extended into July! Get your beach on and vote for Puck on TWC! And remember, this idea came from THE PATRONS! Patrons on Patreon who pledge $5 or more a month get a personal say in what incentives are coming your way! If YOU want to put your two cents in, then my HEAD ON OVER TO PATREON and join the select club!
VOTE FOR NO HASSLE, ONLY THE HOFF!!!
As for this comic…
Like Colin, I actually managed to keep it together in the initial meeting with my doctor when he dropped the info on me. And like Colin, I sort of broke down right after. I managed to make it to the car before blubbering like a little baby, though.
Hipster Dan, by the way, has not appeared before, and may not ever appear again. And I doubt his actual name is Dan. I think Colin's just randomly naming bystanders at this point.