Puck 400
on 
July 24, 2017
at 
10:12 pm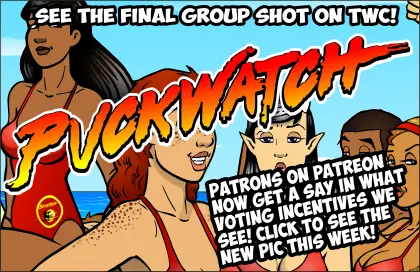 PUCKWATCH VOTING INCENTIVE!!! GROUP SHOT!!!
I'd planned to do more pics for July, but life really got in the way, so I'm saving the new stuff for August. So the Puckwatch thing's still up. Remember: patrons on Patreon who pledge $5 or more a month get a personal say in what incentives are coming your way! If YOU want to put your two cents in, then my HEAD ON OVER TO PATREON and join the select club!
VOTE FOR NO HASSLE, ONLY THE HOFF!!!
As for this comic…
Hey, 400. I feel like that's a milestone, somehow. Though I don't know why.