Puck 399
on 
July 17, 2017
at 
10:07 pm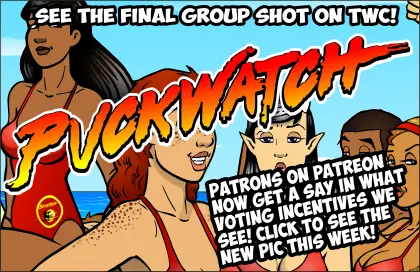 PUCKWATCH VOTING INCENTIVE!!! GROUP SHOT!!!
So here's the big group shot of all the Puckwatch peoples, and this is honestly one of the more comprehensive single pics featuring the cast in a while. Get your beach on and vote for Puck on TWC! And remember, this idea came from THE PATRONS! Patrons on Patreon who pledge $5 or more a month get a personal say in what incentives are coming your way! If YOU want to put your two cents in, then my HEAD ON OVER TO PATREON and join the select club!
VOTE FOR NO HASSLE, ONLY THE HOFF!!!
As for this comic…
Some people are scary even when they're vulnerable. Like a snapping turtle on its back: it ain't going anywhere, but you don't particularly want to get close to it.