Puck 409
on 
September 25, 2017
at 
9:42 pm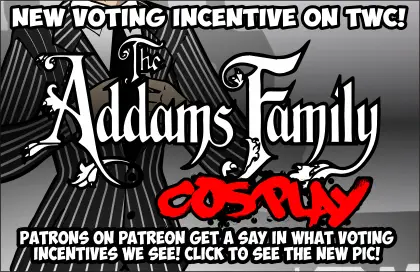 OCTOBER WEEKLY VOTING INCENTIVE!!! ADDAMS FAMILY COSPLAY!!!
The Puck peoples … as members of the Addams Family? It's one crazy family dressing up as another crazy family! And it's happening all throughout October! Ooh, and remember, this voting incentive was chosen by special fans who donate $5 or more a month! If you want to join their controlling ranks, HEAD ON OVER TO PATREON and join the select club!
VOTE BECAUSE I REALLY NEED VOTES, MAN!!!
As for this comic…
There is, sadly, no actual bubble tea place across from the cancer center in Hamilton in real life. But we can pretend. And who knows? The cancer center's situated in a pretty dynamic old-timey shopping district which is in the early stages of gentrification, so maybe a bubble tea place is on the horizon.