Puck 408
on 
September 18, 2017
at 
9:46 pm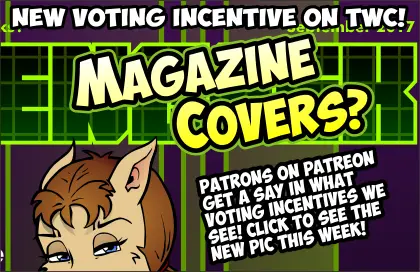 SEPTEMBER WEEKLY VOTING INCENTIVE!!! MAGAZINE COVERS!!!
The Puck cast appears on their own individualized magazine covers! How? I don't know how! Why? That's a mystery too! And remember, this voting incentive was chosen by special fans who donate $5 or more a month! If you want to join their controlling ranks, HEAD ON OVER TO PATREON and join the select club!
As for this comic…
I realized only at the coloring stage that I really should have made Colin's anthropomorphic balls look like pink versions of the California Raisins. But now it's too late. Oh well. I doubt I would have been able to even convey A California Raisin-esque look at the shrunk-down scale of those images.
Eagle eyes might note that the crowd behind fantasy hockey Colin is comprised of faces that look a lot like the crowd from NES Punch-Out! That makes two 80's video game references in one tiny pic!