Puck 410
on 
October 2, 2017
at 
9:46 pm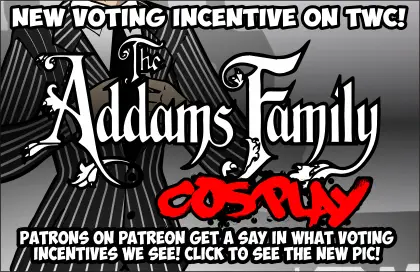 OCTOBER WEEKLY VOTING INCENTIVE!!! ADDAMS FAMILY COSPLAY!!!
The Puck peoples … as members of the Addams Family? It's one crazy family dressing up as another crazy family! And it's happening all throughout October! Ooh, and remember, this voting incentive was chosen by special fans who donate $5 or more a month! If you want to join their controlling ranks, HEAD ON OVER TO PATREON and join the select club!
VOTE BECAUSE I REALLY NEED VOTES, MAN!!!
As for this comic…
No one can argue against the sentiment in this comic, because it's true. I don't mean to shut down discourse here, but there's no counter-argument. You can say, "That's merely a matter of opinion," or "Some people find them attractive," but none of those hold water. Puck's sentiment is just the objective truth.
Also, I am getting really tired of drawing, inking and coloring all these comics with group shots of seven characters. It's like drawing through molasses it's so slow.I really gotta fire my writer for boxing me in like this.