Puck 412
on 
October 16, 2017
at 
10:12 pm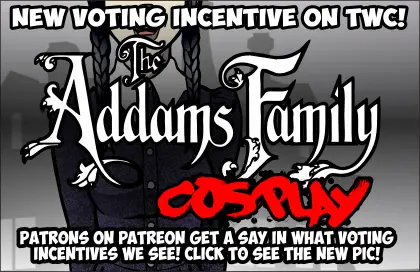 OCTOBER WEEKLY VOTING INCENTIVE!!! ADDAMS FAMILY COSPLAY!!!
The Puck peoples … as members of the Addams Family? It's one crazy family dressing up as another crazy family! And it's happening all throughout October! Ooh, and remember, this voting incentive was chosen by special fans who donate $5 or more a month! If you want to join their controlling ranks, HEAD ON OVER TO PATREON and join the select club!
VOTE BECAUSE I REALLY NEED VOTES, MAN!!!
As for this comic…
I think we all saw some form of this joke coming. I can't fight against the tide when the tide's that strong. So here it is.